The sDrive designation for BMW vehicles was originally reserved for rear-wheel drive models only. Today, you can also find this designation on front-wheel drive BMW models.
In 2003, BMW introduced a completely new all-wheel drive system, which was given the commercial name – xDrive. This newly developed all-wheel drive system allowed so-called torque vectoring. In practice, this means the ability to vary the torque at each wheel separately. Of course, torque vectoring allows a significant positive influence on the vehicle's driving performance.
BMW has been successful with its xDrive models. It has therefore decided to apply torque vectoring to vehicles with a single driven axle, and the sDrive system was born. Initially available as an option for vehicles with a sporting focus, sDrive is now available on virtually all BMW vehicles. The first model to feature sDrive was the BMW Z4 sDrive30i in 2009.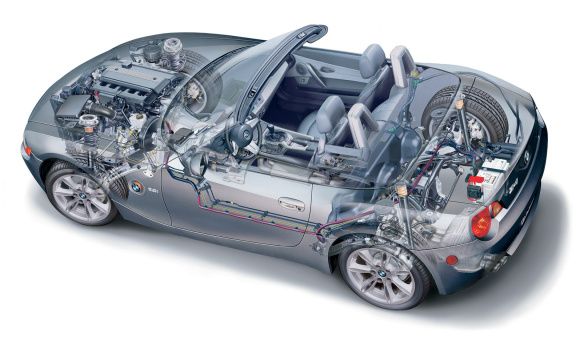 BMW Z4 sDrive30i
Since 2014, when BMW launched the Series one with front-mounted engines and front- or all-wheel drive, the sDrive system has ceased to be synonymous with a front-engined, rear-wheel-drive BMW model.
Examples of the sDrive designation:
BMW X1 sDrive18i = designation of the X1 model with front-wheel drive and petrol engine
BMW X1 sDrive18d = designation of the X1 model with front-wheel drive and diesel engine
BMW X3 sDrive18d = designation of the X3 with rear-wheel drive and diesel engine
BMW X3 xDrive30e = designation of the X3 with all-wheel drive and plug-in hybrid drive